Tribute to Josephine Ferrara Schifferle (1916-1989)
Dear Reader,

December 14th is the 100th anniversary of my mother's birth. This blog is dedicated to her memory. While I could write pages about her and the many wonderful qualities she possessed, I tell one story about her.
She came of age during the Great Depression, and her father and younger brother could not find work. She found a job, but had to leave high school one semester shy of earning her diploma. Her work in a factory kept food on the table and paid the rent.

She quietly related those sketchy details to me, but a real sadness lay in the fact that she did not have a high school diploma. She and my immigrant grandfather would lecture my brothers, my sister and me: "You've got to get your education."

When she passed away, I found a 1939 newspaper clipping among her things. After reproducing it, I made the collage, "My Mother Sewing." My reciprocally-inspired poem "purchased at the Provincetown Public Library yard sale" was written after returning home from a visit there (A Brush with Words, Autumn Light Press, 2013).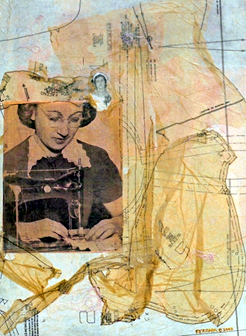 "My Mother Sewing," 2003, collage, 24" by 18"

---
purchased at the Provincetown Public Library yard sale
(Women at Work: 153 Photographs by Lewis W. Hine,
edited by Jonathan L. Doherty, New York 1981)
its cover gradually giving up, shrugging off

the photograph of a dark-haired woman

sitting at a machine, head tipped toward its jaws

of black enamel, made me want to spend the fifty cents,

to save this paperback so I could find someone

who looked the way my mother did

posing for the photographer at her Singer


made me go home and find the 1939 clipping,

my mother's picture in The Courier Express

third in a line of four showing "Busy Hands in Buffalo"

at the Bernard Dress Manufacturing Company


made me remember our sewing machine

and one pink organza dress

lurking among the others she made for me,

the ones I never asked for because I wanted

store-bought, except that time when I knew

there wasn't money for my graduation dress, and so

to do her a favor, I bought three patterns to show her

the neckline from one, sleeves from the second,

and skirt and bodice from the third


made me remember the way the light went out

in her eyes when I asked, Can you do this?

I knew that she would wail and cry as the needle

bound up on a seam, while undigested cloth

came back into her hands


made me read the clipping again, perky report

cheering on some 400 workers who

turn out 24,000 dresses each week

made me see my mother, at her 12-needle machine

feeding it cloth to gather, trim and shear,

made me finally understand

the cost of organza, wretched and pink


---

My mother, a woman who never learned to drive, would no doubt find the blogosphere an amazing development in literacy. And I hope she would be delighted that I told you about this part of her life.

Happy 100th Birthday, Ma.