Artmaking Is Everywhere
Dear Reader,
I could not predict that when I began my travel manuscript, it would become as much a way of describing what I was actually doing, as well as the subject of its pages. Since February, I have driven hundreds of miles each month to help my sister Jennie, a.k.a. "the love of my life," in her battle with ovarian cancer.
I pack. I drive. I unpack. I pack again. I drive. Binders filled with personal essays (Judy's Journals) and poems ride in the trunk, waiting for the right time to be brought out. I pack materials to make new travel paintings in the bag.
I have described myself as a studio artist. Clearly, it became time to reevaluate that stance. Each month I have been able to complete another piece, such as the one below, in the most unlikely of places (hospital rooms, waiting rooms, my sister's living room). If the Muse continues to keep me steady and give me energy and inspiration, I am prepared to create new and/or improved art and writing!
In even the most traumatic situations, there can be down time. Waiting. Hoping. Thinking. In those quieter times, I welcome two strange bedfellows, Hunger and Energy. They arrive and urge me on. A specific feeling begins in the pit of my stomach, then moves up into my brain. "Pick up that poem!" "Start drawing!" "Get to work!" Their presence is welcome because they help me to keep my balance in the middle of very serious circumstances. They tell me when it is safe to surrender to the work. They provide me with pockets of light in the darkness.
I am very grateful that I am an artist.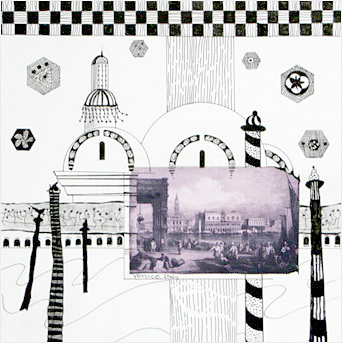 Travel Venice 2012