Creating an Environment for Living

Dear Reader,

In the late 1980's, John and I were at the University of New Hampshire, where we were enrolled in a graduate summer writing program. For three weeks, we were immersed in WORDS! Our on-campus apartment was bleak and basic, and freshly-painted beige walls that called out for a certain something: ART. What to do?

One morning, I awoke with an idea. Remember printers with stacks of paper that had holes on both sides? You had to tear along dotted lines to separate your copy, then remove the side strips. My art-starved self considered what paintings I'd love to have hanging in the rooms. Claude Monet's? How about his 1920 triptych, the one in MoMA? I tore off a three-page section, wrote Water Lilies on it and taped it above the couch. Reading the words made the painting appear. Vincent van Gogh's Cypresses? Done! Within minutes, the rest of the apartment bloomed with great works of art.

How far can one go to create a highly-individualized living environment, a.k.a. home? My 2015 January blog was about artist Sonia Delaunay (1885-1975). "There was no distinction between fine and decorative arts for Sonia. She created environments for living… She believed that 'the morale of art could be used to defeat the worldwide demoralisation of the time. . . painting and the art of color should influence everything – everyday life, fashion, theatre, stained glass, carpets and books, but also mentalities and spirituality (Laurence Bertrand Dorleac's essay, "Confused Origins," exhibition catalog, page 212).'" Think about it: was there ever a better time than NOW to transform our living spaces? "Worldwide demoralization," indeed.

One of our most cherished collections is stained glass. Each window becomes a floating work of art. In 2003, we needed to have the windows replaced. The collection was carefully boxed and relegated to the cellar. A few years ago, I was searching for something else and noticed the boxes. My heart sank, because I missed those beauties. What to do?

I learned that stained glass, when hung against a white wall, can be quite lovely.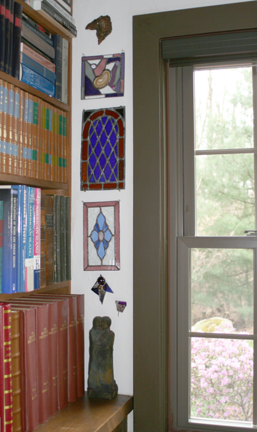 "Stained glass & pins"
You might notice the top item in this grouping is not stained glass. In fact, the bottom two are not either, strictly speaking. They are selections from my pin collection, which until two days ago was stored in a closet on a special multi-pocketed hanger. What happened? My foray into rescuing our stained glass morphed into hanging selections from my pin collection. Here, the grouping graces a terra cotta sculpture by artist Jerry Geier.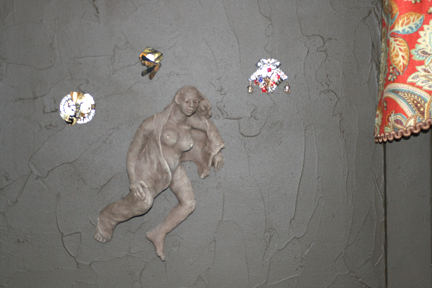 "Jerry Geier sculpture & pins"