A Museum of Memory and Friendship

Dear Readers,
When Orhan Pamuk was writing his novel, Museum of Innocence, he was inspired in a special way. His characters, Leyla and Mecnun, would exist not only on the page, but would also unfold in a real building in Istanbul. He would seed the rooms with period artifacts directly connected to the sad narrative of the young couple and their families.
Pamuk's idea is brilliant. Not surprisingly, The Museum of Innocence has been added to my museum-list-that-never-ends. However, his article held another set of riches for me. He wrote, "…most of us, faced with a traumatic loss in life or love find consolation in attaching ourselves to objects." That sentence leapt off the page and landed next to my four-year-old volunteer project: the prize-winning poet Stanley Kunitz's Boyhood Home Docent Program in Worcester, Massachusetts.
While a novel is by definition fiction, the story of Kunitz (1905-2006) and his chance meeting with the young couple who inadvertently bought his boyhood home is not. That day in 1985 when Carol and Greg Stockmal invited him in, Kunitz walked through the door after a sixty-year absence.
What followed was a twenty-year friendship between them. However, Kunitz had called the Woodford Street home a "house of sorrows," because it held memories of loss and loneliness for him. The Stockmals transformed it to a house of friendship and love.
Who was Stanley Kunitz to me? John and I have loved his work for decades and were fortunate to hear him read his poetry many times; we treasure our small collection of autographed books. I painted "Passing Through: A Tribute to Stanley Kunitz" in 1998, the year I returned to painting.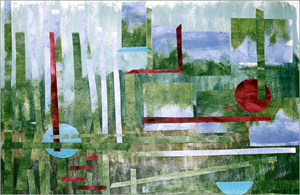 My relationship with Kunitz's life changed abruptly in December 2008, when Greg Stockmal died suddenly. One of the countless unhappy consequences of losing him was that he had led house tours at Kunitz's boyhood home. Beginning in 2005, visitors had heard him tell the story of their friendship and were shown framed correspondence and memorabilia.
Carol Stockmal wanted to honor Greg's memory and Kunitz's by continuing this personal look at the friendship between them. You can read the story of how I became a researcher and docent trainer in Judy's Journal, 2011- April. Since 2009, docents begin each tour by telling visitors that Greg was "The First Docent," and we dedicate each tour to him.
Docents also remind visitors that 4 Woodford Street is a home, not a museum. Pamuk's concept of what a museum can and should be is the mission of the house on Woodford Street. He wrote, "I think that if museums, like novels, were to focus more on private and personal stories, they would be better able to bring out our collective humanity."
The house, like a non-chronological museum, is filled with 19th and early 20th century period furniture that is an interpretation of what one might expect in the home of a successful merchant family. Only one object actually belonged to the Kunitz family: Stanley's high chair.
Docents bring people from room to room and tell the true stories of memory and friendship. For example, Kunitz, on one of his visits, asked Greg and Carol if he could see his mother's basement sewing room. Once there, he exclaimed, "That's my high chair! My mother dragged it everywhere we moved." The chair was cleaned and brought to the kitchen, where it occupies a place of honor. Stanley would later remark: "When I turn 100, I will sit in it and you can feed me birthday cake." It was a prescient remark, because the tray holds a piece of his 100th birthday cake!
If, according to Pamuk, "…most of us, faced with a traumatic loss in life or love find consolation in attaching ourselves to objects," then the object Kunitz attached himself to was the house itself. Docents highlight "the Worcester poems" throughout the tour. Several, such as "My Mother's Pears" which is dedicated to the Stockmals, and "Three Floors," are set in the house and in the neighborhood.
Stanley Kunitz's reclamation of the house on Woodford Street can be read in his poetry, but another powerful example exists in his correspondence to the Stockmals. He created a word to describe it: "(y)our house." It is a word that speaks volumes about the possibilities of friendship and can be thought of as a symbol for our collective humanity. It is true story, not fiction.