Giving Yourself Assignments
Dear Reader,

In August, John and I took a cab to the Bowery in New York City, with the express purpose of seeing a retrospective of Albert Oehlen's paintings at the New Museum. We spent about an hour in galleries full of Oehlen's work. I was attracted by Oehlen's later use of color and admired his use of thin washes to obscure large passages of each piece. John thought the technique took away from the overall effect of the paintings. Oehlen also used the same wash-out technique in two black, white and gray pieces, which I didn't care for.
We returned to the lobby and met docent Katie, who took us back to Oehlen's exhibit. I was glad that she talked about the black, white and gray paintings, because I was curious about why someone so adept at color would choose to remove it from the equation. Katie said that Oehlen decided to give himself an assignment to make paintings using the limited palette.
I thought about how poets and writers do the same thing. Why sit and wait for the angels of inspiration to fly in?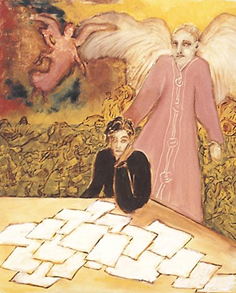 "Angels and Inspiration"
Writers call them "writing prompts," and they are the heart and soul of many writing groups. They do the work of getting the creative juices flowing. I keep notebooks for jotting down ideas, quotations and dialogue. It is a way of collecting anything in the world that has caught my attention. Recently, I read one from cover to cover to see if anything felt "warm." I ended up copying short prompts on slips of paper, then putting them in an envelope marked "Seeds" (a.k.a. "future writing ideas").
Here are a few seeds for writing:
When the balloon goes up – an idiom meaning there is impending trouble-a barrage of shells may soon follow, so get ready.
The word "hermeneutic" slumps in my vase of language, ignored, unused, wilted, waiting to be discarded, like "dialectic" and "paradigm" before it.
CaO2 – calcium oxide – lime – when heated, gives off an intense white light (the origin of the term, "in the limelight."
Zen concept of Sabi – embracing the flaws
"Go back to where you came from."
We always buy art for love – it must be a coup de foudre (a thunderclap, love at first sight)
Something happens in the woods and no one knows how to explain it.
It's true that songbirds dream about their songs – they rehearse them in their sleep.
Inside the hospital's walls, air conditioning vents mumble to water pipes, waiting to return a hiss at the elevator.
Kafka – "The meaning of life is that it stops."
Degas – "The air you breathe in a picture is not the same thing as the air you breathe outside."
Iris Apfel – "I love clutter. I think being totally minimal shows a lack of history and soul, and I find it sort of pitiful. I think it's wonderful to have stuff and live with memories and things you enjoy."
Manhattan schist – the mica-rich bedrock of the city was blended into the city's sidewalks, which accounted for their sparkle.
Will any of these seeds sprout into sentences or poems? Or do they exist for the pleasure of their company?